If you want to change your data that was set during registration, click on the top right corner (your name and surname). Select SETTINGS from the drop-down menu. A window for editing user details will open. Not all personal details can be edited.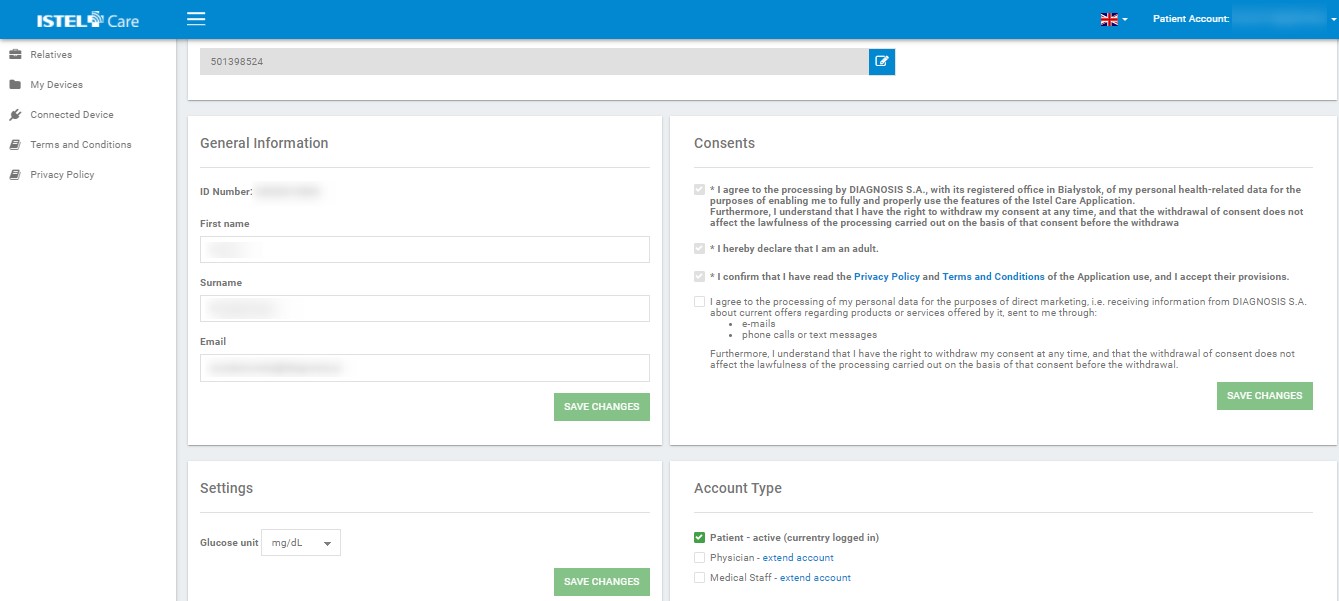 PHONE NUMBER

When you change your phone, we will ask you to verify the new number. Keep the phone with the new number at hand because we will send you a text message with an authorisation code.
1. Click on EDIT icon located by the current phone number.
2. Enter a NEW PHONE NUMBER (See Fig. Enter new phone number).
3. Click on SEND A CONFIRMATION MESSAGE button. You will receive a text message with activation code to the new phone number.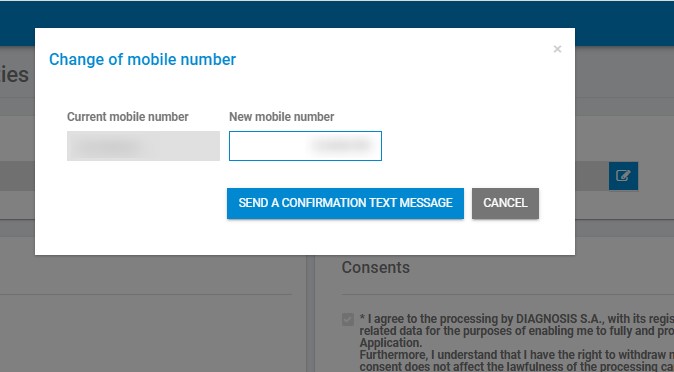 4. Enter the ACTIVATION CODE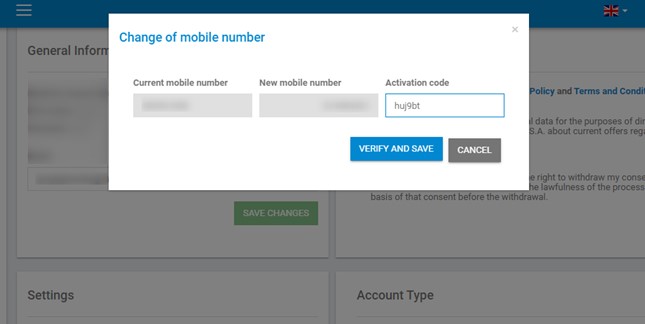 5. The phone number has been changed.
Patients cannot change their PESEL [Personal ID No] on their own. If for any reason you need to edit this data, please contact us istelcare@diagnosis.pl
User can change his name, surname and e-mail address. To do this, enter new data and then click SAVE CHANGES button. You will receive an email with a link to confirm the changes.
CONSENTS

User may select or unselect the consent for processing of personal data by Diagnosis S.A. and then click SAVE CHANGES button.
Consents that are required cannot be unselected.
GLUCOSE UNIT SETTINGS
The user can set the glucose unit: mg/dl or mmol/L. Click SAVE CHANGES button to save the selected settings.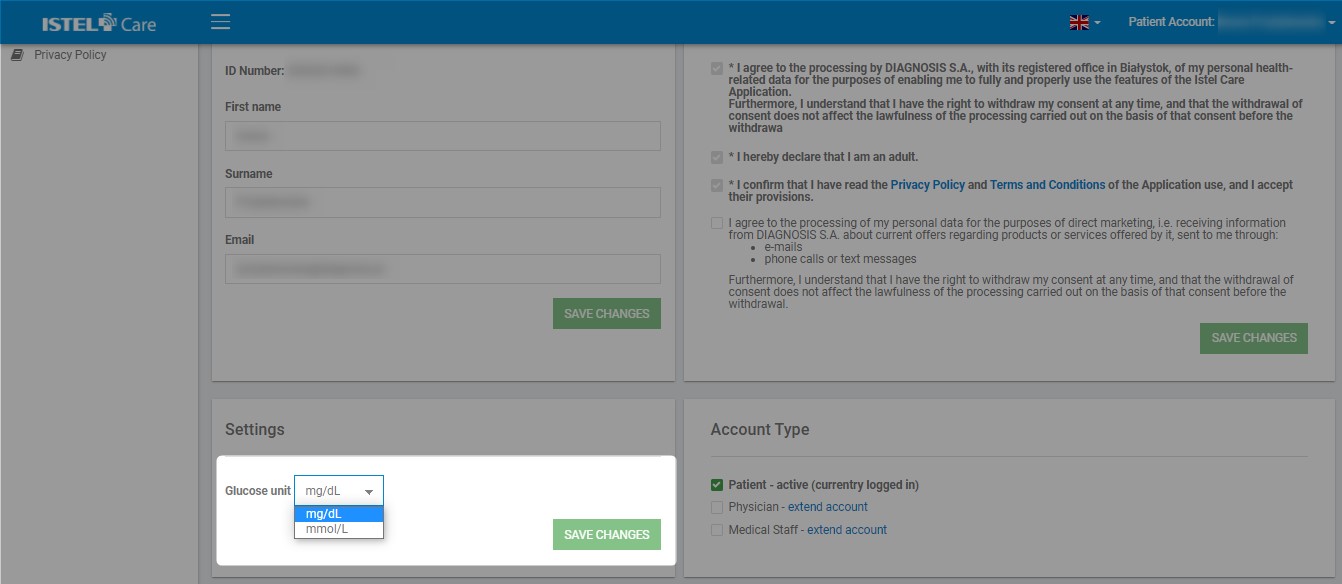 ACCOUNT TYPE

Patient may upgrade his account with Doctor or Medical Staff account. In order to do it, select the UPGRADE YOUR ACCOUNT option in the settings of your account type. A form will appear, which should be filled in with the missing data - medical licence number (PWZ) and data of the medical facility; accept the terms and conditions and click on the UPGRADE YOUR ACCOUNT button.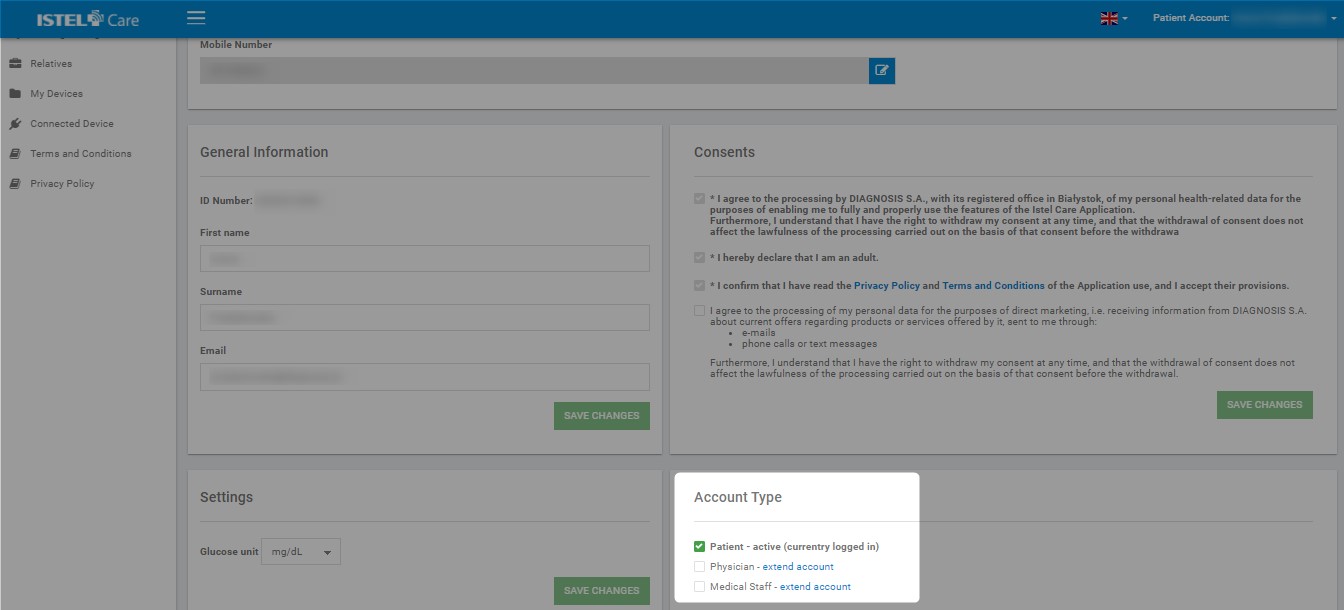 ACCOUNT DELETION

Deletion of an account entails permanent deletion of the Patient's data in the system. However, Patient's interactions (without personal data) with other users will stay.
To delete an Patient's account:
- Click on DELETE Patient ACCOUNT button.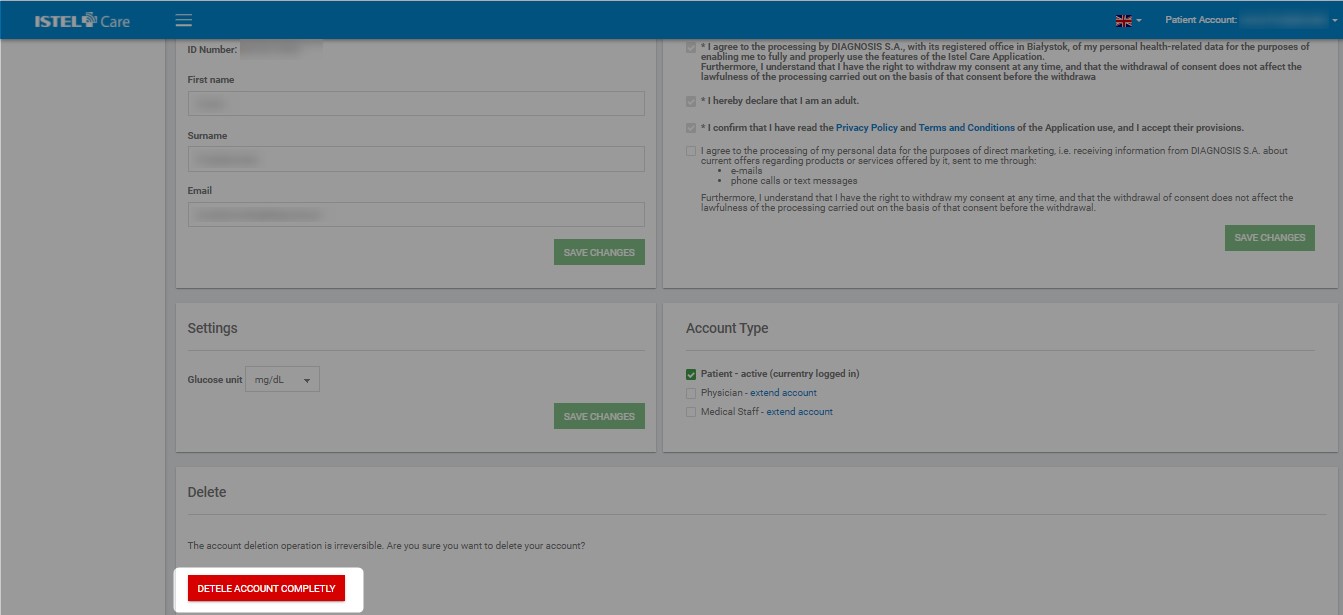 To delete all accounts assigned to a chosen user:

1. Click on DELETE ACCOUNT COMPLETLY button.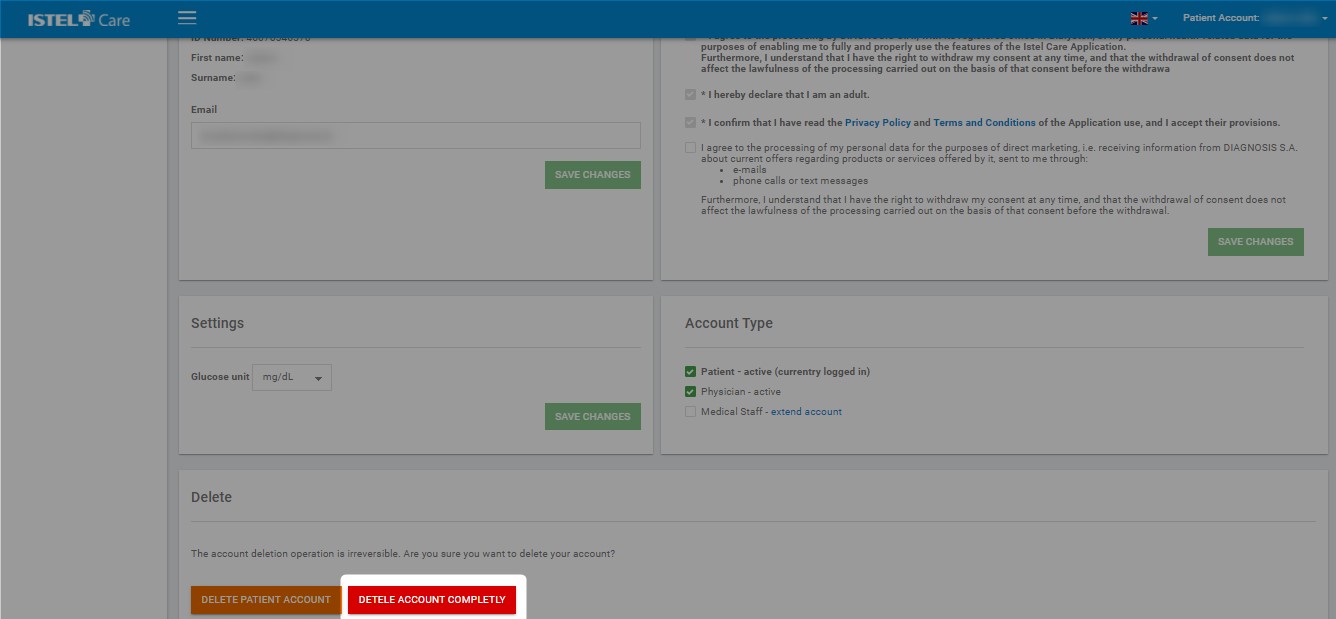 2. A phone number confirmation window will appear. In the right field enter the PHONE NUMBER assigned to the account.
3. Click on the SEND A TEXT MESSAGE WITH THE CODE FOR ACCOUNT DELETION button.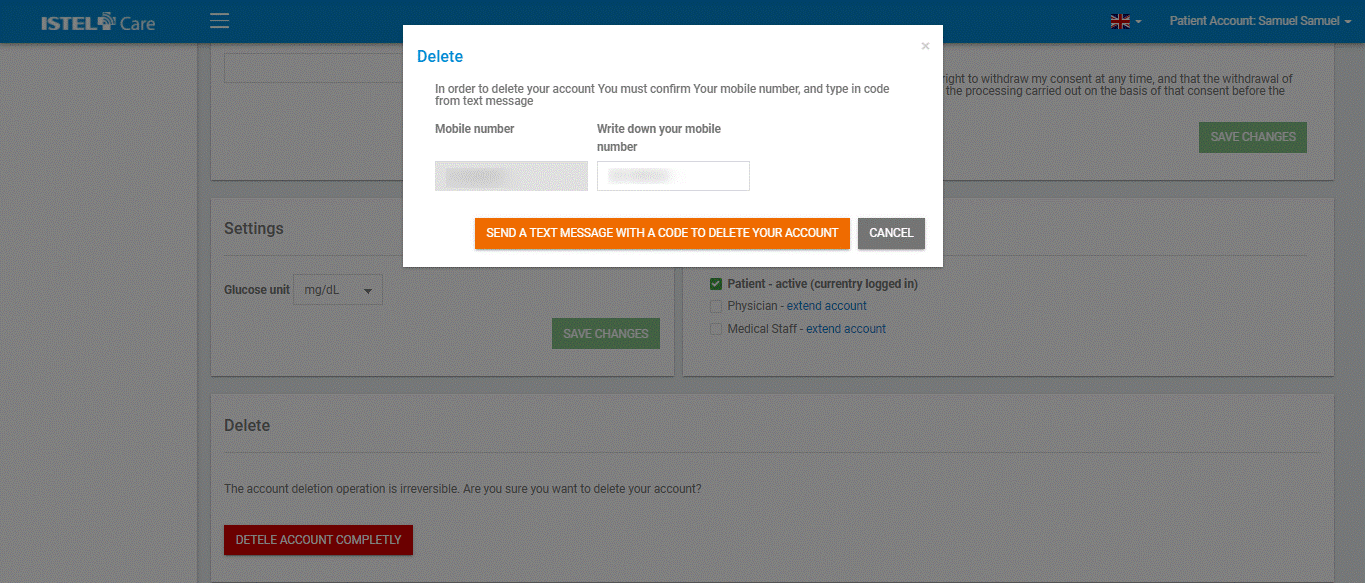 4. An additional field for entering the code will appear. At the same time, we will send a text message with a code for deleting your account.
5. Enter the code and confirm the process by clicking on the DELETE ACCOUNT button.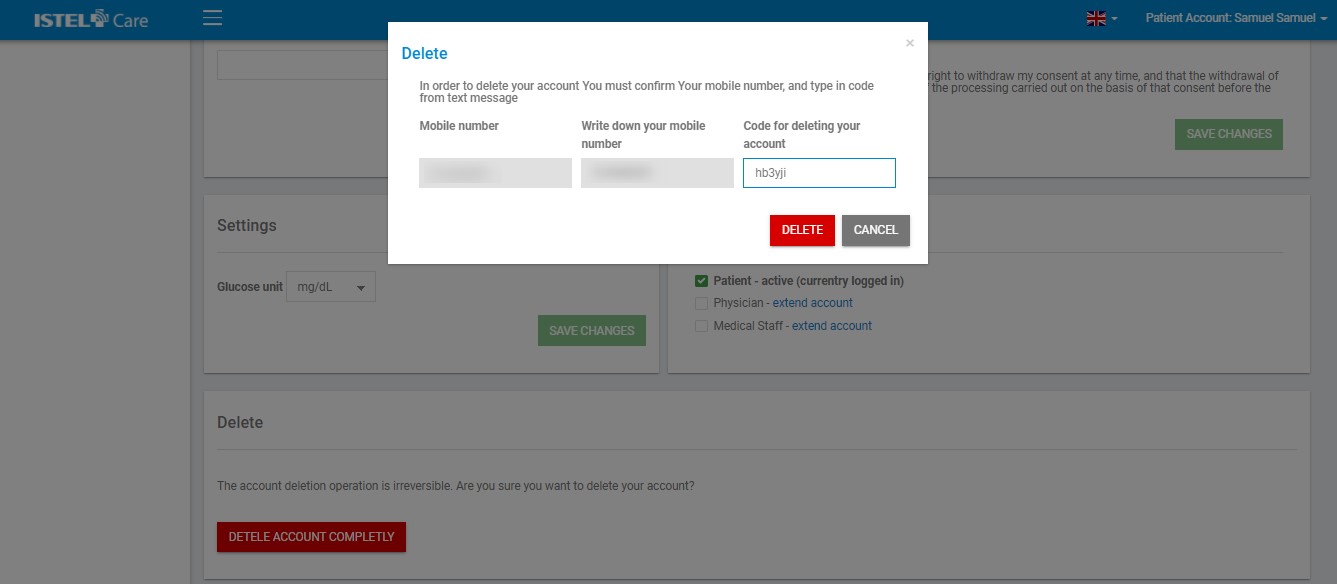 6. Your account has been permanently deleted.
7. After you click on the OK button, you will be taken to the page for logging in to the Istel Care System.